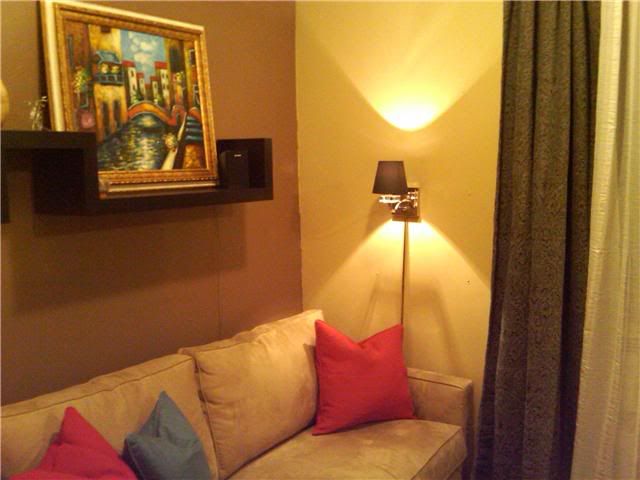 Lighting design is not just an art; it is a science as well. Dark corners and dimly lit rooms are aesthetically displeasing, and people will generally steer away from them. Poor lighting can also diminish the color and texture of a living area, actually making it look worse. Alternately, intense lighting can wash out the colors of a room, and direct lighting often overpowers delicate wall textures and/or décor.
Psychological and scientific studies have shown that people function better in terms of overall mood and cognitive function when there is sufficient light. People are also more likely to inhabit a room wherein the lighting has been set up to make the space seem warm and inviting. Therefore, lighting strategy must be considered as fundamental during the design of any living space, since lighting impacts how that space will be perceived and utilized.
When performing lighting design for a room, keep the following facts in mind:
1. Lighting always requires shadow in order to create contrast and visual appeal. Bright overhead lights, while capable of illuminating every aspect of a room, often turn it into a "monotone" and boring space.
2. A given living space typically requires from 5 to 10 light sources in order to be adequately lit. The exact number of light sources will also depend on the color scheme of the room; a darkly painted room will require more lighting than a lightly painted one. Similarly, a heavily decorated room will require more light sources in order to highlight the many interesting features of that space.
3. Matching light collections are ideal for achieving unity in a single room, as well as saving on purchasing time.
Pictures and paintings are important features of a room and should be illuminated. Highlighting such items also helps to define the perimeter of a room.
To make a room more interesting, try varying the heights of light sources, as well as their intensities (e.g., by installing dimmer switches). Such variations will help create different areas of shade intensity and size.
When evaluating a room prior to light installation, consider whether the room has need of one or more of these light sources:
General (ambient) light: This refers to the overall level of light provided in a living space so that it is visible and safe for its intended use. In many cases, general light is provided via overhead ceiling lamps. Another common practice is to use recessed lighting along the walls or as part of the ceiling trim.
Task light: This is typically a focused light source that illuminates a work area such as a desk, lab bench, or kitchen island. Such light may be provided in the form of a lamp, pendant fixture, or track light. In some cases, a task light may be recessed; for example, the light may be mounted under a kitchen cabinet so that it is not visible from the kitchen counter space.
Accent light: Such light is typically four times the intensity of an area's general (ambient) light and focuses attention on a specific object or room fixture. Quite often, halogen lights are used to provide a bright-white glow to an object. In some cases, the accent light can be equipped with a focusing lens in order to target a specific feature of a fixture or object.
Display light: This light is typically of low voltage and is used in the display of small keepsakes, figurines, dinnerware, etc. In this case, xenon or halogen lights which range from 3W to 20W are typically used.
Cove light: Such light is mounted at the perimeter of the living space, such as where the ceiling and walls meet. A large crown molding may be used to hide the actual light. Light fixtures are typically placed about 4 inches from the wall in order to minimize any scalloping effects. It is also recommended that the ceiling height above the light fixture be no more than twice the distance of the fixture to the wall (e.g., a bulb placed 3 inches away from the wall should be no more than 6 inches away from the ceiling).
In summary, good lighting design can make a world of difference for a living space. When choosing and evaluating lighting displays, consider the intended use of the room and its central features. Also, be sure that the lighting appliances are purchased from a reputable company and are stamped with either the UL or ETC logo.
(c) Copyright 2010 - Paul Stratkona. All rights reserved.

Paul Stratkona has been in the lighting field for over 16 years and acted as the lighting consultant for a countless number of homeowners/business across the country. Check out his
portfolio
and visit our website at www.lightandconcept.com to learn more about
contemporary lighting
.